Bale wrapper with side loading EM SPIDER and horizontal feed mixer EM PUMA – these are two new machines of Euromilk. Unique solutions were applied in new models. Euromilk is a family-owned company, engaged in delivery of complete and specialist solutions for farms oriented at effective milk production. The Euromilk brand's owner is Gama Group.
THE HORIZONTAL MIXER WAGON EM PUMA is a unique model, created with perfect precision, owing to many years of experience in the production of mixer wagons. The machine has an excellent cutting and mixing system with two horizontal augers, equipped with durable knives with special strength. Robust mixers, set at an optimal angle, ensure very accurate cutting and mixing, guaranteeing perfectly chopped feed. The construction of the wagon is made of quality steel S355J2 + N, where the lower part of the tub and the reinforcements at the discharge windows are made of 8 mm steel. The 10 mm thick bottom can be optionally reinforced with 2 mm thick acid resistant steel. Windows, located on both sides of the machine, ensure perfect distribution of TMR, and the hydraulically adjustable PVC conveyor ensures even more precise distribution of feed. The rear opening allows for convenient filling of various types of nutritional additives. In order to ensure optimal operation, especially in difficult conditions, the wagon can be fitted with a reverse gear.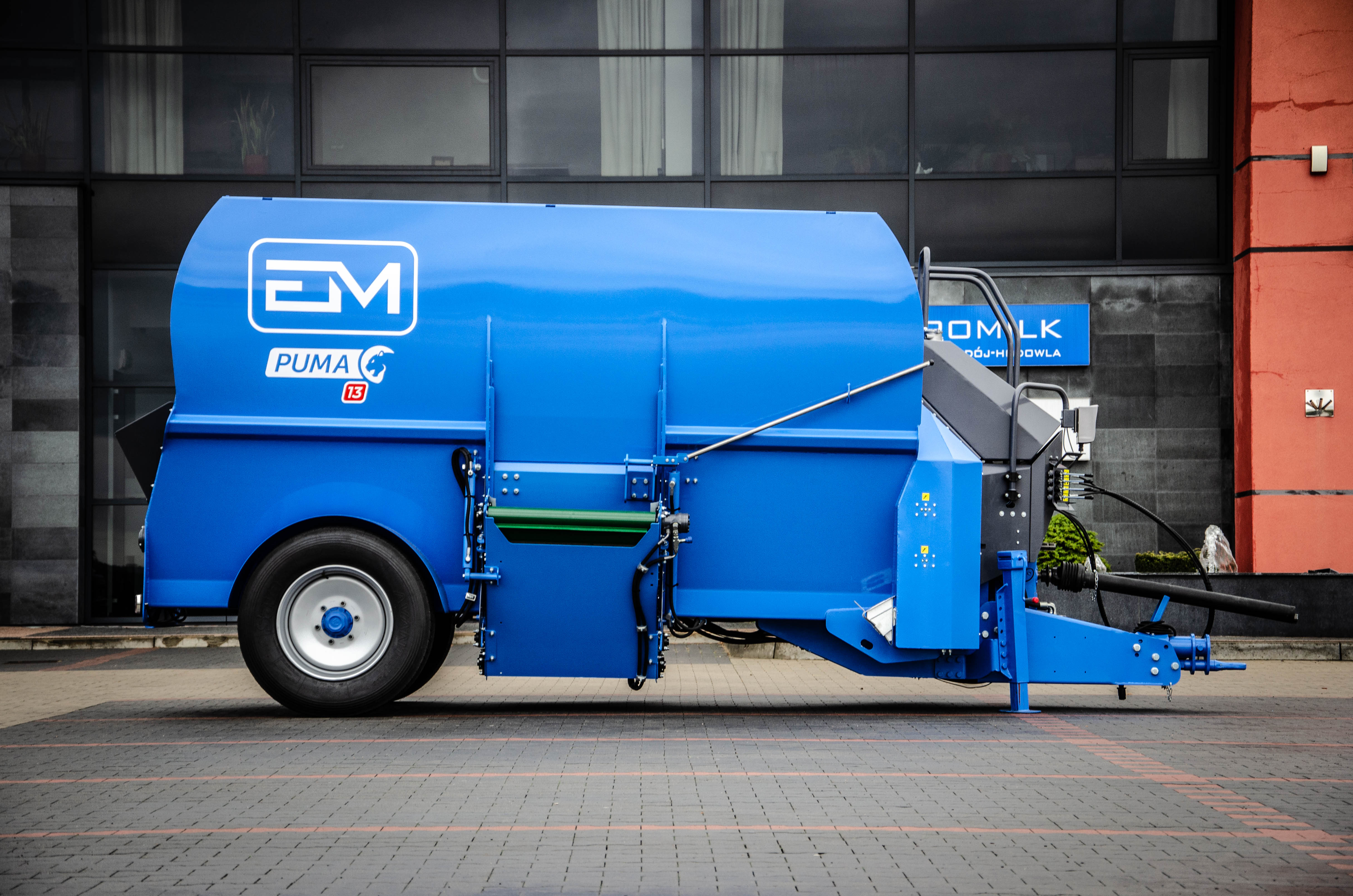 BALE WRAPPER EM SPIDER features side loading of bales, which ensures fast and effective operation. It is equipped with low-position turntable supported on a large bearing, which influences stability and precision of wrapping. Control is effected from the tractor cab by means of mechanical levers. The machine is equipped, as a standard, with wrapped bale counter. Optionally, bale positioner to upright position can be applied, as well as hydraulically mounted wheel OPERATION/TRANSPORT and tires 400/60 x 15,5.